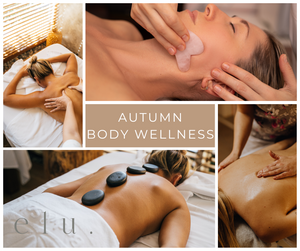 🍂Autumn Body Wellness 135mins :
•60mins ESPA GUA SHA Facial
•60mins Aromatherapy massage
•15mins Hot stone enhancement
$1860 - 135mins
Introducing our exclusive Autumn Body Wellness treatment, this limited-time November promotion is a combination of luxurious spa services that will leave you feeling rejuvenated and ready to embrace the cozy season ahead.
Indulge in a 60-minute ESPA gua sha facial. Our skilled therapists will use gentle, soothing techniques to release tension and revitalize your skin, leaving you with a radiant and glowing complexion.
Next, a 60-minute aromatherapy massage tailored to your specific needs. Immerse yourself in the calming scents of essential oils easing away stress and tension from your body and mind.
To enhance your experience, we're delighted to offer a complimentary 15-minute hot stone enhancement. The warm, smooth stones will be strategically placed on key areas of your body, providing deep relaxation and promoting circulation for an added boost of wellness.
Don't miss out on this exquisite Autumn Body Wellness promotion. Book now to secure your spot and treat yourself to a well-deserved escape during this enchanting season.
Learn more : http://wa.me/64778647
#AutumnBodyWellness #SpaPromotion #GuaShaFacial #AromatherapyMassage #HotStoneEnhancement #RelaxationRetreat #LimitedTimeOffer #BookNow #Selfcare #WellnessJourney