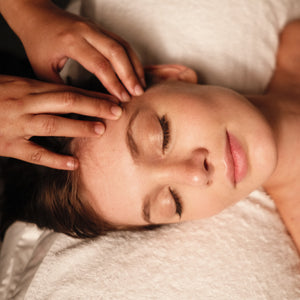 Please try and select another therapist if the time slot you chose above is unavailable. 

*Please contact us on Whatsapp or call 64778647
if you would like to request any Therapist!
A luxurious and rare facial treatment that is both nurturing and nourishing to the skin and soul. It consists of 8 essential skincare steps and incorporates our unique Hungarian massage techniques, leaving you with improved circulation, a clear and glowing complexion, and revitalised skin as a result of this 75 minutes deeply relaxing treatment.
The 8 steps:
1. Analysis: Before beginning the treatment, our aesthetician will tailor-made an unique experience for you with the wide selections of Eminence products based on your skin types and by addressing specific skin concerns. All products from Eminence are made with the finest natural organic ingredients and are free of any harmful chemicals. 
2. Cleansing: To remove any make up and surface build up with one to two cleansing products.
3. Toning: To re-balance the skin pH value with a tonique or mist. 
4. Exfoliating: To remove the build up of dead skin cells and resurface the skin for restoration.
5. Extraction: To clear blackheads and whiteheads if needed. Not recommended for sensitive skin.
6. Massage: Promotes the following benefits through our unique Hungarian massage techniques
Stimulate blood flow and boost lymph circulation
Encourage lymphatic drainage and detoxification 
Improve skin's metabolism 
Reduce puffiness
Firming and lifting
Regenerate and enliven skin tone and complexion - giving it a healthy glow
Relax and calm your busy mind and soul
7. Masking: One or more masques may be applied on different areas, each of which are carefully selected based on your skin assessment and analysis.
8. Moisturise: Complete with toner, serums, moisturisers, eye care and SPF for further strengthening and protection from environmental stressors.